Click for more information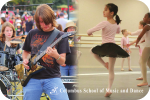 about registration events
New to the School of
Music & Dance?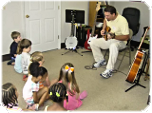 Click here to watch a short video and learn more about our programs.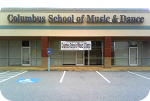 7600 Schomburg Rd., L
Columbus, GA 31909
(706) 561-3342
Learn to Play Guitar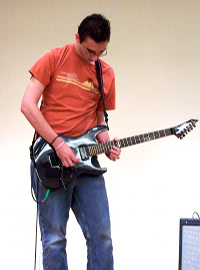 The CSMD guitar program is one of the largest and most active programs in the Southeast. Our teachers have taken a close look at the way guitar has been traditionally taught and realize that the majority of aspiring guitarists do not wish to learn the "out-dated" materials that many teachers and books use as an instructional method. "Mary had a little lamb", "Three Blind Mice", and other traditional songs are not what most people wish to learn and are not the type of music that spurs one to play guitar in the first place. Music by Aerosmith, Keith Urban, Chet Atkins, Chris Parkening, Doyle Dykes, Brad Paisley and countless other musical groups and genres are the inspiration that drives many of today's students to choose guitar over any other instrument.
Our guitar program starts with the premise that the student wants to learn a particular song or type of music. Our instructors formulate a curriculum to meet the individual needs and desires of the student. Within the first couple of sessions, students will be able to play along with their favorite music in chord structure. Students are encouraged to bring their favorite recorded music to the classes, even at the beginning, and instructors use the student's chosen music to begin guitar studies.
Our guitar instructors are capable of teaching students ages 5 yrs - adult, beginner to advanced, acoustic or electric, and any genre. Each instructor is an active performing guitarist and has substantial teaching experience. These reasons make CSMD the best place for guitar studies!